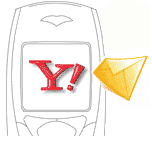 Yahoo! the world's number one online media brand and the most trafficked Internet destination with more than 345 million unique visitors has launched Yahoo! Messenger for SMS in Pakistan with Mobilink, the country's leading cellular service provider.
'Yahoo! has established itself as a pioneering and leading Internet portal providing value added services for mobile phone users whereas Mobilink has established itself as the favourite cellular service provider in Pakistan. Both brands are market leaders in our respective areas, which makes this a natural partnership that has great potential to create more branding opportunities and increased revenue streams for both companies." Said Zouhair A Khaliq, President and CEO of Mobilink.
The partnership between Yahoo! and Mobilink will see Yahoo! Messenger for SMS extended to well over 5 million of Mobilink's subscribers where a Yahoo! Instant Message sent will be received directly at the individual's mobile phone as an SMS in real time.
Yahoo! Messenger is immensely popular amongst Net users in Asia with tens of millions of users logging on daily to communicate with friends and family. The service will give Mobilink customers another personal and interactive instant messaging (IM) experience by offering leading Yahoo! services like Yahoo! Games, Yahoo! AddressBook, and Yahoo! Search right in the messaging window, plus other expressive features.
The service is geared to give better connectivity to people always on the go making it a sure and fast way of communicating with friends anywhere anytime. Mobilink customers who are registered Yahoo! Messenger users will be able start using Yahoo! Messenger for SMS in the second week of April when the service is officially launched.
Says Mr. Malek Ali, Head of Mobile, Yahoo! Southeast Asia, 'Yahoo! is constantly enhancing our services for users and making sure that we deliver relevant services to fulfill their needs. Our partnership with Mobilink is one such example of how we are extending value to the users of both companies by offering instant connectivity 24 hours a day, anywhere and anytime whether on the PC or on the mobile phone."
With the addition of Yahoo! Messenger for SMS, Mobilink's cellular customers who are also registered Yahoo! Messenger users will be able to send text messages directly from Yahoo! Messenger to friends' mobile phones in Pakistan by clicking on the 'Text" mobile phone icon or entering their friends' mobile numbers in the Address Book.
To stay connected when away from the PC all mobile users need to do is type in their [yahoo!ID] [yahoo!password]" and send the message to 171. SMS messages sent from Yahoo! Messenger on the PC is free but those who respond to the message via their mobile phone will be charged a nominal rate.
Source:
Hardware Zone